Ahh cupcakes... so many possibilities. People on Pinterest are posting cupcakes like crazy and since Valentine's day is coming up.... in a month hahha... I decided to post my Top 10 favorite ideas for Valentine's day decorated cupcakes. They may not be the best recipes for cupcakes, because those would definitely get complicated, these are just ideas for how to decorate them. Keep in mind they aren't actually in order because I'm not one to discriminate against cupcakes :) Enjoy!
Having said that they won't be ordered... there is definitely a reason that these are first.
Madewithloveby.me
shows how to bake a heart into your cupcakes with another colour of batter. Make sure to decorate them so that its clear which side to eat them from, so you get a heart, not a random shape.
Mmm these buttercream roses made by
call-me-cupcake
are just beautiful.
Mmm nothing quite as good as simple thick buttercream frosting. I love the colours she used at
apollinas
and of course if you want more fanciness you can dress them up. Bulk barn has all kinds of premade decorations like fondant roses and pretty shaped sprinkles. Or you can make your own flowers with this lovely
tutorial
.
Cupcakewrappers.com
has tons of paper wrappers for cupcakes. And I love the little flowers on top! There's a tutorial to make gum paste flowers just like these
here.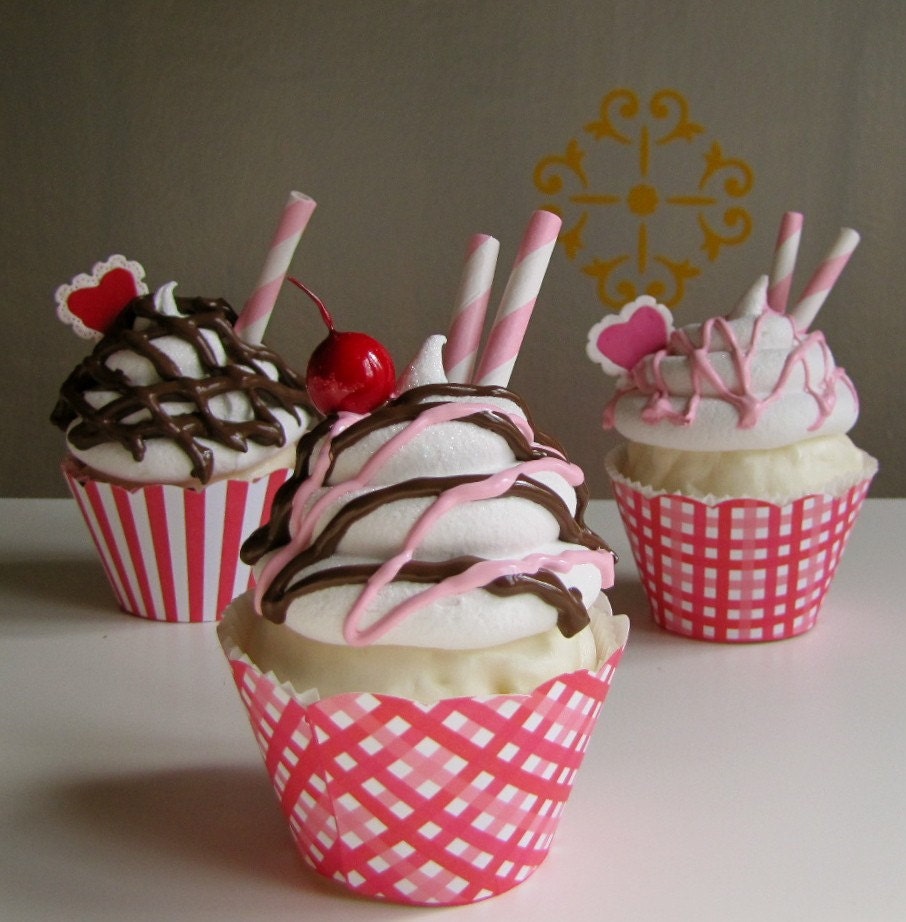 Okay as it turns out, these aren't even real cupcakes. But since this is about the decorating, that doesn't matter. These are actually fake cupcakes from
12LegsCuriosities
, an etsy shop. But sundae cupcakes would be so adorable to share on Valentine's day with their little pink straws, cherries, and other decorations.
LoveFromTheOven
made these absolutely adorable cupcakes. They're so simple but I love the blue icing and the little heart :)
These
Martha Stewart
cupcakes are raspberry flavoured with pink buttercream and lacy chocolate hearts, which are way easier to make than you might think, you should definitely give them a try.
These cupcakes from
ObjetivoCupcake
have to be one of my all time favorites. I love the dark pink icing, the cute placing of the raspberries and the way she sprinkled sugar on top. They're so pretty, not to mention the fact that they're champagne cupcakes... perfect for Valentine's day, no?
Okay I am so happy I found this tutorial video at
Createdby-Diane
which shows how to make an icing rose on top of your cupcake in 20 seconds. It's so helpful and now that I have the right tip I'll probably be doing it all the time.
Creature Comforts Blog
shows how to make these DIY cupid's arrows, can't go wrong with these for any decorating you want to do for Valentine's day.
Okay those were my Top 10, but here is one special recipe that is a necessity for you and your Valentine. It's for making just two cupcakes, all you need is one bowl and a spoon - also fabulous for light night snacking ;)
How Sweet Eats
shows how to make them.
Happy Decorating!